Sugar-Free & Keto Chocolate Cream Cold Brew
As an Amazon Associate I earn from qualifying purchases.
Starbucks likes to add new drinks to its menu every summer, it seems and the summer of 2022 was the year they added Chocolate Cream Cold Brew. So, now you have the option of this chocolate delight or their original vanilla cream cold brew.
The link just above will bring you to my sugar-free, keto version for you to make at home. Below will be the chocolate version. Use the Jump to Links for easy access.
Starbucks Chocolate Cream Cold Brew is their Vanilla Sweet Cream with chocolate and malted milk powder poured over their cold brew coffee.
A couple of other cold coffee drinks that I have on my site are pumpkin cream cold brew, and cold foam with a listing of drink ideas to pair it with.
Jump to:
Ingredients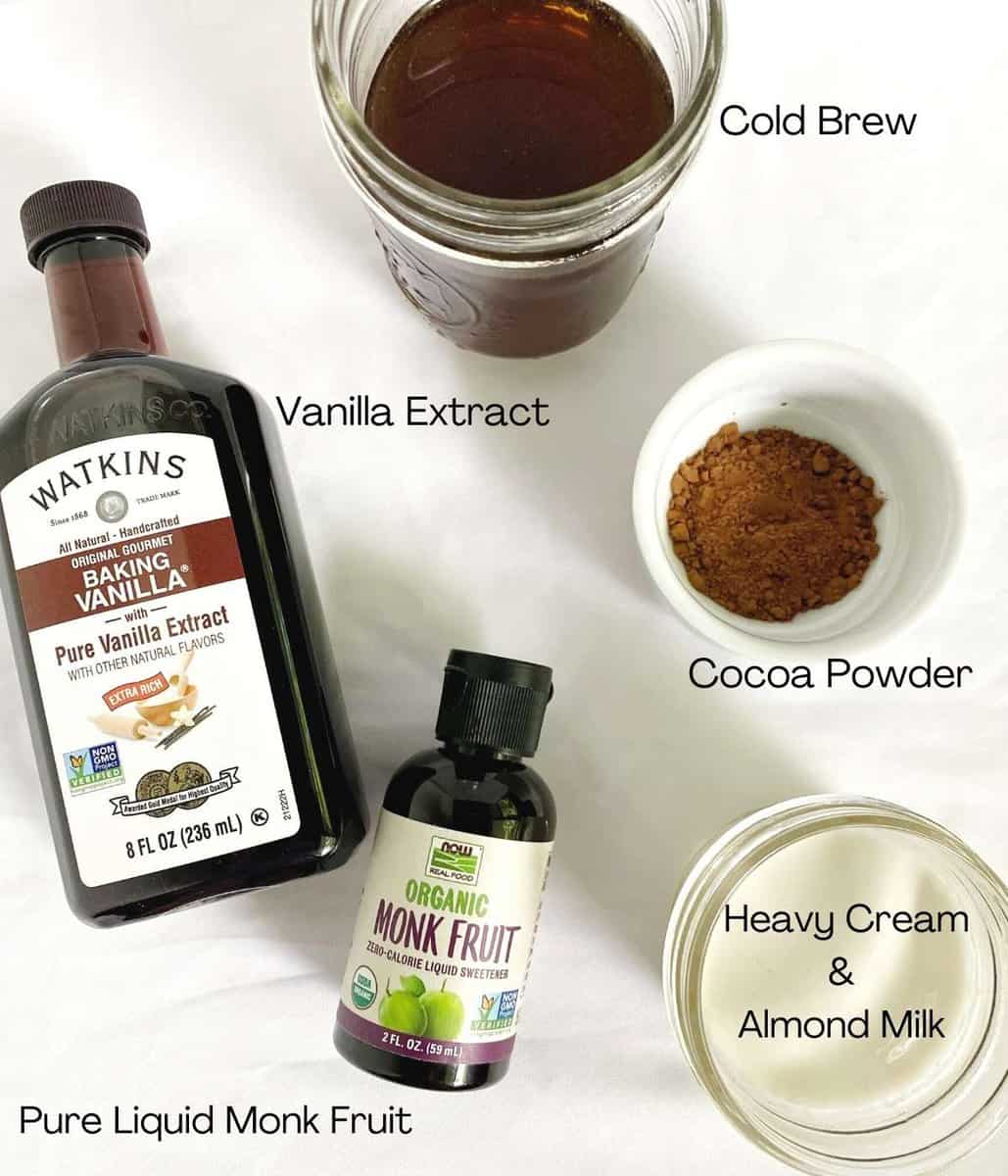 I called my local Starbucks to see what was in their chocolate cream cold brew. The barista informed me that they use their sweet cream recipe plus chocolate malt milk powder. Then they have vanilla syrup in the cold brew.
Below is what I used to make this delicious drink sugar-free, low-carb, keto, and gluten-free friendly.
Cocoa Powder
Heavy Whipping Cream
Unsweetened Nut Milk, such as almond or milkadamia
Vanilla Extract
Liquid Monk Fruit Sweetener
Cold Brew Coffee
Optional Malted Milk Powder (contains gluten and sugar)
See the recipe card for quantities.
Substitutions
Liquid Monk Fruit
If you do not have liquid monk fruit you can use a powdered erythritol and monk fruit mix. Start with 1/2 tablespoon in the chocolate cream mixture.
You can also use liquid stevia instead of monk fruit.
Liquid sugar-free sweeteners are best for the sweeteners in the cold brew coffee part.
Vanilla Extract and Liquid Sweetener Replacements
Using sugar-free vanilla syrup would replace both the monk fruit and vanilla extract. Use 1/2 to 1 tablespoon in the coffee and 1/2 tablespoon in the frothed chocolate cream.
Liquid monk fruit comes in flavor options. Therefore, you can purchase liquid vanilla monk fruit. If you use this instead just leave out the vanilla extract and keep the same amounts for the monk fruit.
If you like stevia over monk fruit, you can also purchase liquid vanilla stevia.
Heavy Cream and Milk
To replace the nut milk and heavy whipping cream, you can use all half and half in the recipe, to give it the same creaminess.
Malted Milk Powder
Starbucks' original recipe for the chocolate cream cold brew does contain malted milk powder, however, I left out this ingredient to keep this recipe gluten-free. Also, some people on keto like to stay away from wheat and this powder contains wheat flour and barley.
To keep this recipe truely sugar-free, there needs to be no malted milk powder as well. The powder contains added sugar.
If you are okay with wheat, barley, and sugar, feel free to use this ingredient that's in the authentic recipe from Starbucks. I note in the recipe to use 1 tablespoon of it.
How to Make Cold Brew Coffee
You can purchase cold brew from the store or make your own with this easy recipe.
Pour 1 cup of course coffee grinds in a picture then add 4 cups of cold water.
Place the picture in the fridge for at least 12 hours.
Strain out the coffee grinds and you are left with the cold brew coffee.
Frothing the cream mixture is essential for this recipe and there are a few tools that you can use.
My favorite tool is to use a handheld milk frother, as it's lightweight, easy to clean up, and stores easily on my countertop.
Other tools that can be used are an immersion blender, milk frother, and a mini bullet blender.
Recipe
For many health-conscious coffee lovers, finding a delicious—and sugar-free—cold brew can seem like mission impossible. However, those in search of a delicious, nutritious, and sugar-free cold brew can now rejoice! The latest offering from renowned coffee chain CaffeTio is Keto Chocolate Cream Cold Brew, a sugar-free and lactose-free cold brew that satisfies all cravings.
This drink is crafted with care, featuring only high quality, sugar-free ingredients such as unsweetened cocoa powder and cream, as well as a smooth coffee blend. This cold brew delivers a creamy beverage that is both sweet and indulgent, without any of the guilt associated with regular coffee and cream drinks.
Keto Chocolate Cream Cold Brew is a great choice for those looking to reduce their sugar intake, but still enjoy something sweet. This drink provides the perfect balance of taste and nutrition, with a delicious, creamy texture that makes it an instant hit.
In addition to being sugar-free, this cold brew is also lactose-free! This makes it a great choice for those with lactose sensitivities or sensitivities to dairy. And due to its low calorie and fat content, Keto Chocolate Cream Cold Brew is a great choice for those who are trying to control their calorie intake.
Keto Chocolate Cream Cold Brew is perfect for those who are health-conscious, but still want something to indulge in. With its unique blend of flavors and healthy ingredients, this cold brew is sure to satisfy cravings and keep you energized throughout the day. So, if you're looking for a delicious, sugar-free alternative to regular cold brews, then Keto Chocolate Cream Cold Brew from Cafftio is the perfect choice.