Keto Martini Recipe – Low Carb & Sugar Free!
Sit back and enjoy this delicious, keto friendly classic cocktail. With so many different drink recipes in the world, there's nothing like a Keto Martini. It has no sugar, it's low carb and has the most amazing botanical flavor. A real treat on a Friday night!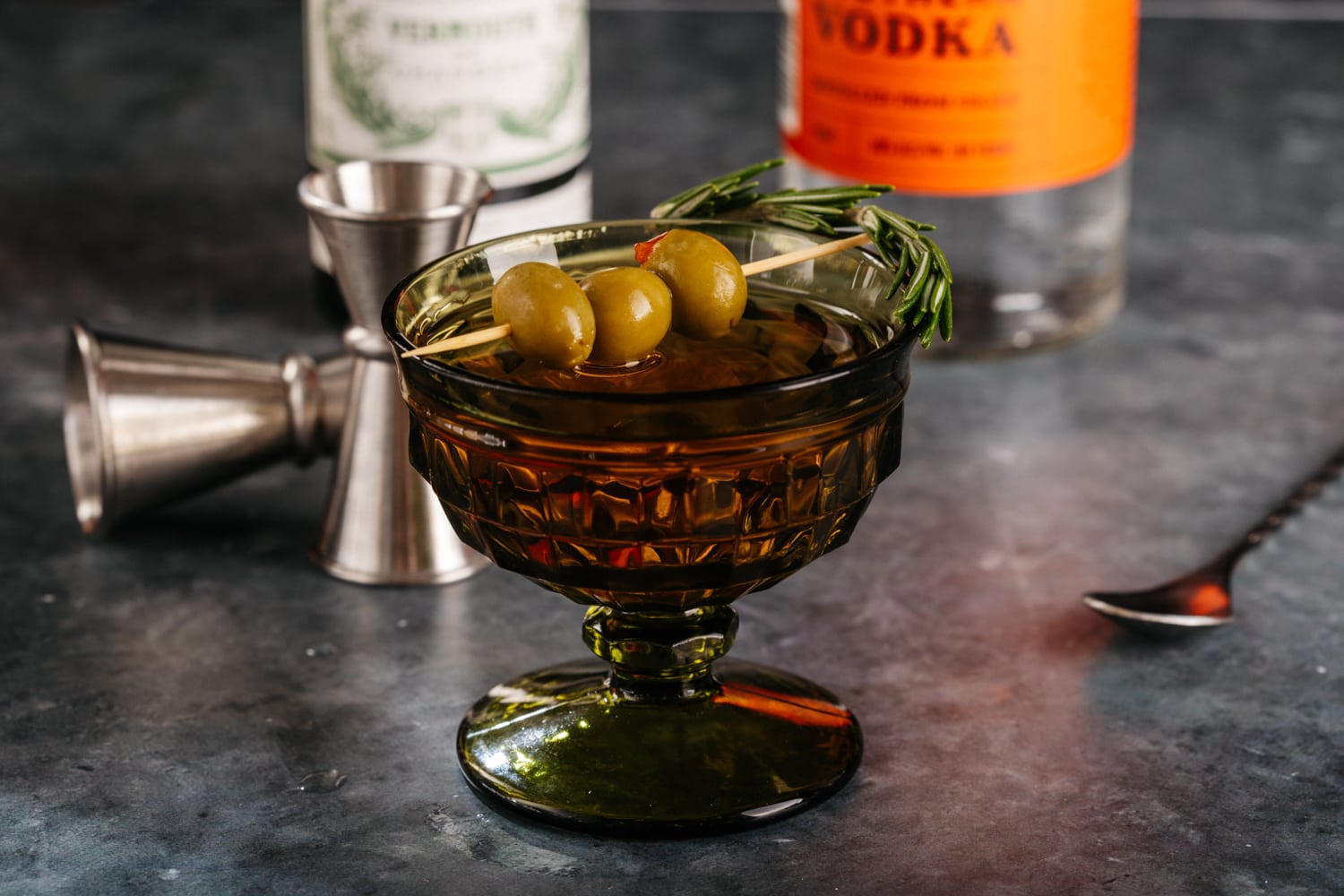 Not many people can agree on how to make their martinis and we totally understand that. It's definitely a personal preference and sometimes even an acquired taste.
If you've been wondering how many carbs are in a martini, the good news is that a classic martini is almost always fine to drink on a ketogenic diet.
Since martinis don't contain juices, syrup and sugar like other cocktails do, a single martini is less than 1g of net carbs. It doesn't matter if you're using gin or vodka, on keto you can enjoy both.
Can I Have a Dry Martini on Keto?
There are many low carb and keto cocktails available, and this classic Keto Martini is one of them. What you want to do in general is skip on drinks that contain high sugar ingredients, such as simple syrup or juice.
To read more about what you can and cannot drink on keto, check out our Keto Alcohol Guide. There, we listed the most keto friendly swaps for your favorite alcohol and wrote a bit more on how alcohol affects you on keto.
Alcohol and ketosis
Without going much into detail, we wanted to let you know what is the issue with drinking alcohol on keto. Yes, you can have vodka, whiskey, gin and other hard alcohol but depending on your goals while on a keto diet, drinking may affect you differently.
In simple terms – on keto, your body begins to source energy from fat instead of carbohydrates. As a result, your liver starts to produce ketones to burn fat.
When you consume alcohol, your body will see it as a toxin and prioritize getting rid of it first. That means your body will no longer see burning fat as its main goal.
If you're on the ketogenic diet because you wanted to lose weight and burn extra pounds off your body, drinking alcohol frequently may stall your progress and keep you away from your goal.
To find out accurate nutritional information and the serving size, scroll down to our recipe card.
How to Make a Keto Martini?
There are tons of recipes out there on the internet, but we'll show you how we made ours. Although our martini was stirred, you can grab a cocktail shaker and do your own version of that's what you prefer.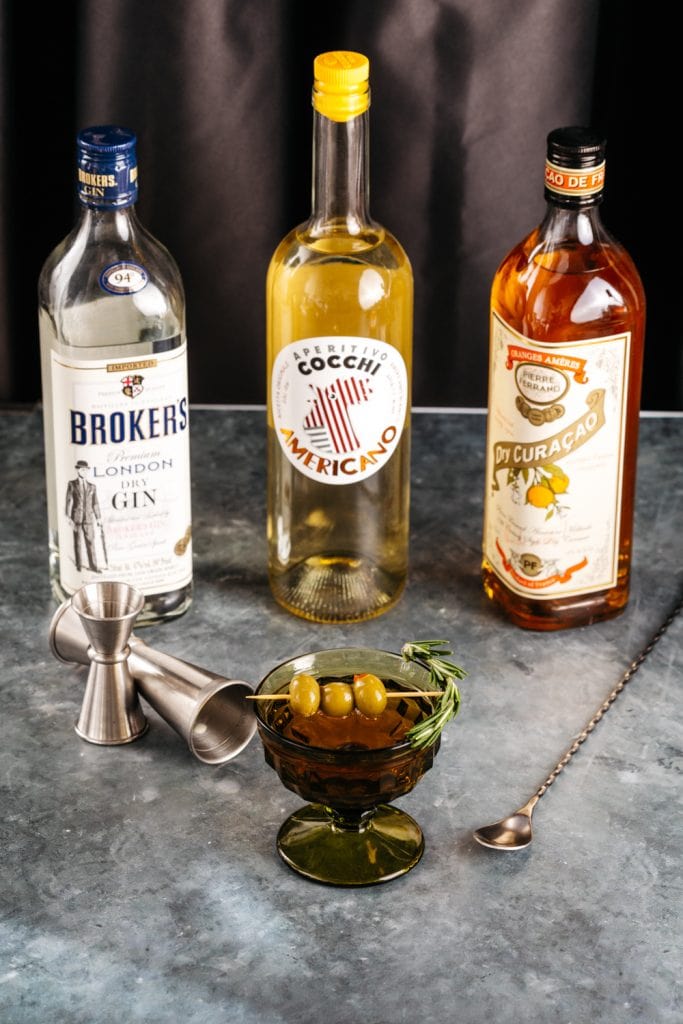 Here are the ingredients for the most delicious and refreshing Keto Martini:
Ingredients
Gin
Always make sure to pick high quality gin for your low carb martini. Some people prefer to make it with vodka, but every classic version calls for gin and that's how me and Megha like it as well.
If you've never had gin, definitely give it a try. It's a very specific taste, almost botanical in a way with juniper and pine flavors all around.
Just in case you don't like the distinct flavor, you can try vodka since it's almost flavorless. Also, remember to get a high quality bottle since most of your drink will be filled with it.
Dry vermouth
Vermouth is another classic ingredient in our Keto Martini. If you were wondering what it was, it's not vodka. It's a fortified wine with some herbs and spices.
It comes in two versions – sweet or dry. In this recipe we're using the dry kind since it has less net carbs and less added sugar. On average, 1 oz of dry vermouth has about 0.2g of carbs.
We're even using half of that in our recipe, so you don't have to worry about a high carb count.
Ice cubes
It's just frozen water, right? Well, that's true but there's a bit of art to it too. We're not making ice figures out here (although if you know how to do that, send me pictures and I'll be your #1 fan), but there's a way to use ice the right way with martinis.
We used regular ice cubes and chilled the glass beforehand to make a perfect drink, but you can also use cracked ice cubes since they're the coldest at the center.
Garnish
You don't really need any specific ingredients for this one, but a classic martini is just not it without an olive and a lemon twist. That's exactly what we did in our Keto Martini and I recommend you do the same.
If you're more into experimenting, add olive juice, fresh lemon juice or even pickled onions. A classic martini can take on many variations, so go wild!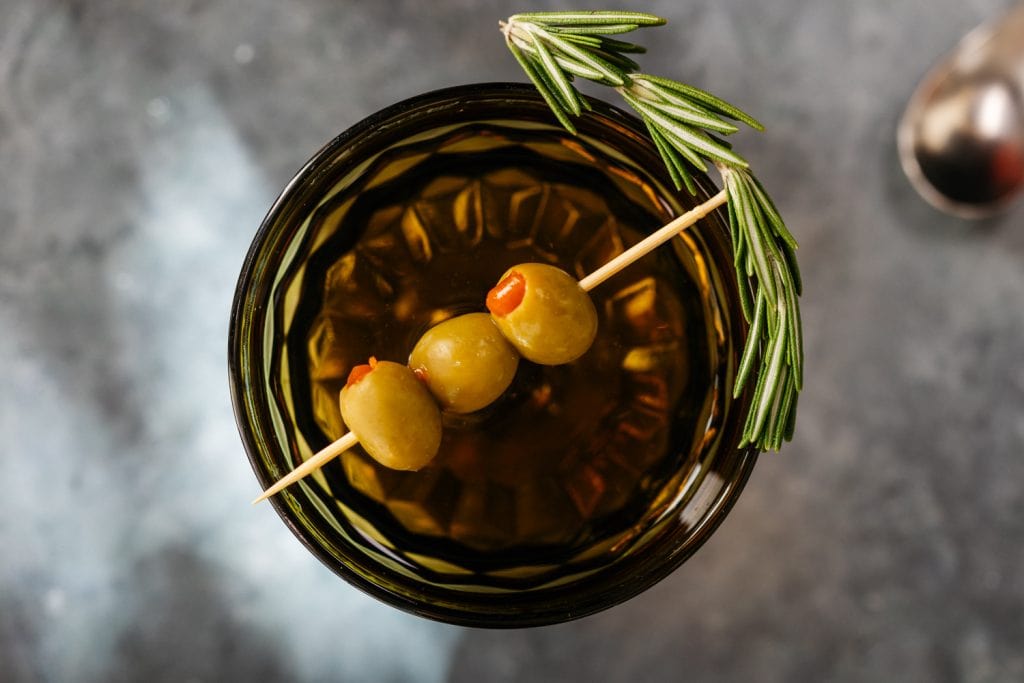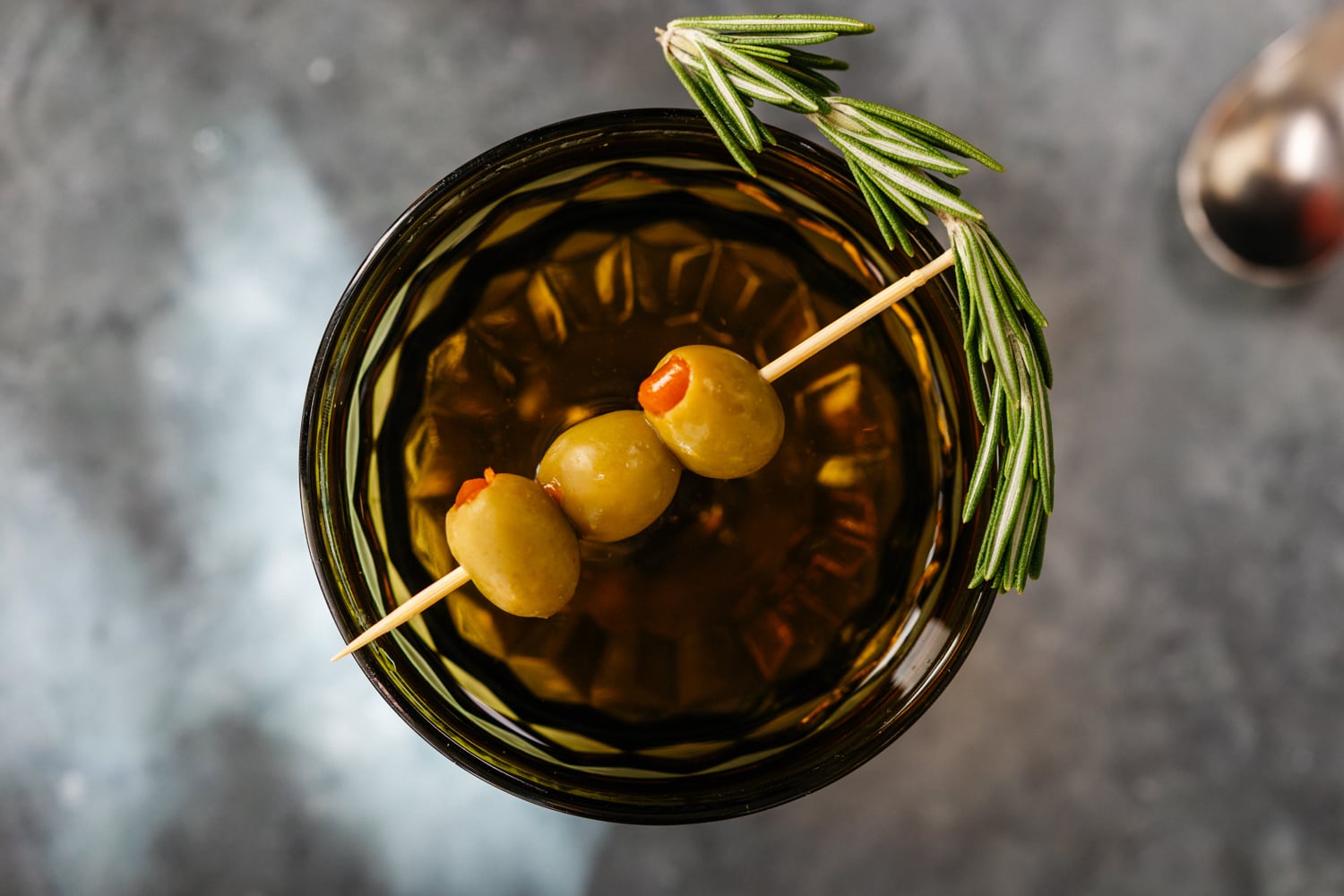 It's time to grab a martini glass!
Almost done! Our Keto Martini is stirred and not shaken, but go ahead and shake it up a bit if you want vermouth to dissolve better. It's a personal preference. Take a look at how we do it:
Directions
Stir all the ingredients in a mixing glass. That's the one you'll use for mixing, because you'll drink it from another one.
Add ice cubes and allow it to chill for 30 seconds. Don't go over that time limit to prevent the ice from melting and diluting your Keto Martini.
Strain and pour into a previously chilled martini glass. That's an important step, so don't skip it!
Serve with olives for that real dirty martini feel or garnish with whatever else you prefer.
More Keto Cocktails
We have a host of other keto friendly cocktail recipes for you to try. Here are some of our favorites!
Have You Tried our Keto Martini Recipe?
Let us know in the comments if you liked it! Maybe you're into different martini versions? I'm probably going to make something with espresso next, so if any of you have done it before let me know!
Don't forget to hit that Pinterest icon on the right hand side of the recipe and leave a recipe rating!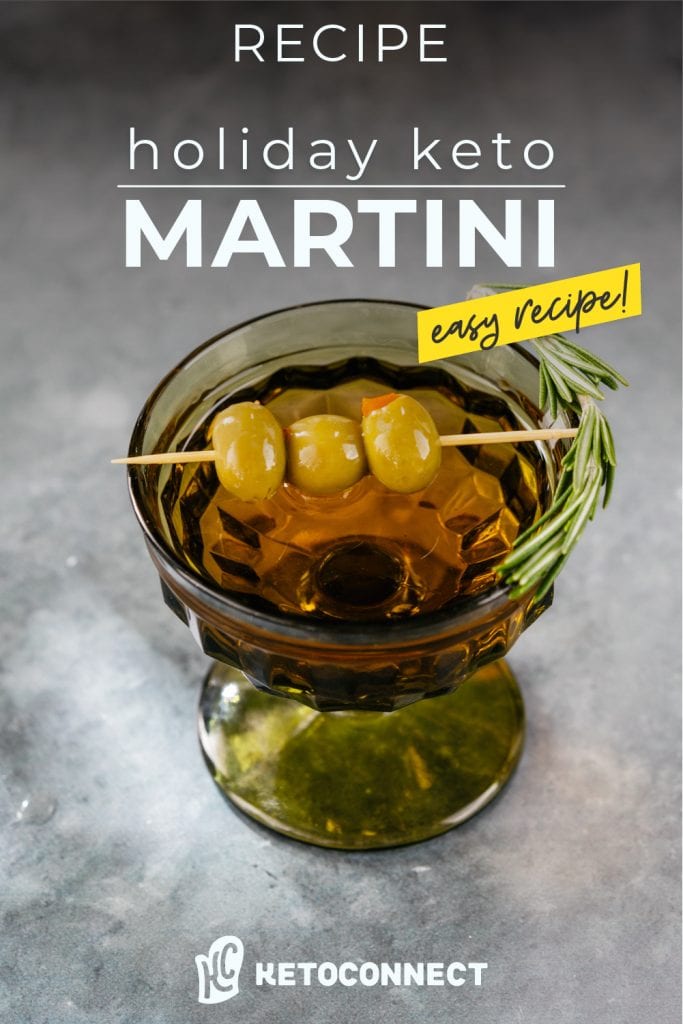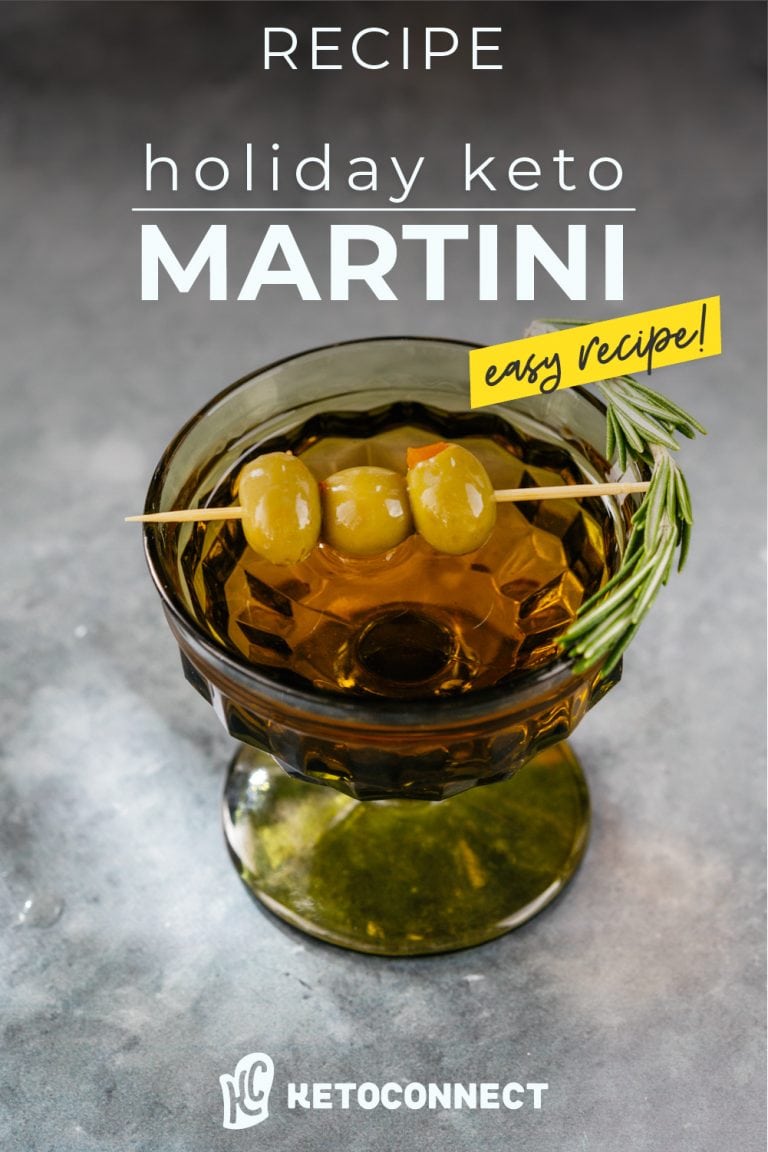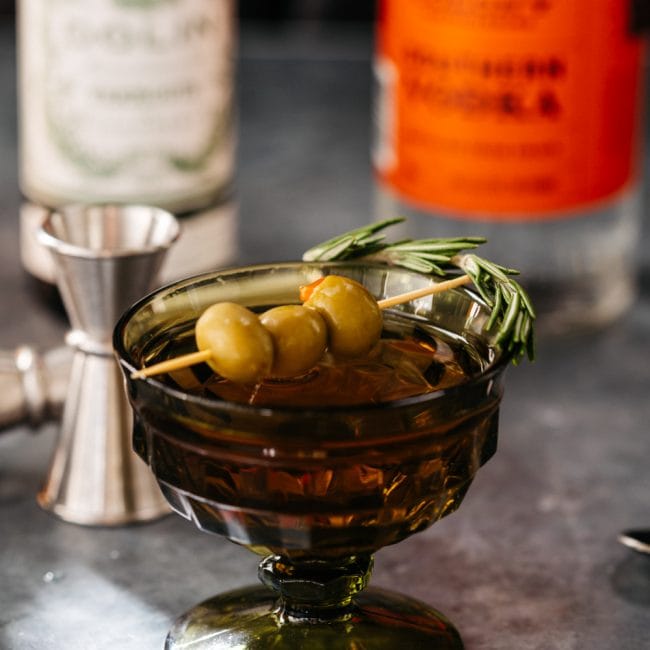 Keto Martini Recipe
This Keto Martini has no sugar, it's low carb and has the most amazing botanical flavor. A real treat on a Friday night!
Total Time 3 minutes
Servings 2 servings
Calories per serving 300kcal
Instructions:
Add all ingredients to a cocktail shaker. Shake for about 30 seconds until the mixture is completely chilled.

Strain and pour the martini into a chilled martini glass.

Serve with olives for a dirty martini or a lemon twist for a fresh citrus flavor.
Notes
Garnish with a lemon twist or olives
Nutrition Facts
Keto Martini Recipe
Amount Per Serving
Calories 300
% Daily Value*
Sodium 1mg0%
Potassium 3mg0%
Carbohydrates 1g0%
Protein 1g2%
Iron 1mg6%
* Percent Daily Values are based on a 2000 calorie diet.

Are you looking to enjoy an alcoholic beverage without consuming excess carbohydrates and sugar? Look no further than a Keto Martini!
A Keto Martini is the perfect drink for those looking to stay low carb and sugar-free. The classic martini is usually made with gin or vodka, dry vermouth, and sweet vermouth. However, one variation of this classic cocktail skips the sugary ingredients and opts for a low-carb, sugar-free beverage. The result is a delicious drink that is sure to satisfy even the most discerning taste buds.
To make a Keto Martini, first mix two ounces of gin or vodka in a shaker with three dashes of orange bitters. Next, add one teaspoon of fresh lemon juice and a quarter of an ounce of fresh lime juice. Finally, add an ounce of dry vermouth and shake vigorously. Strain the mixture into a martini glass and garnish with a twist of lemon.
This low-carb, sugar-free variation of the classic martini is sure to become a hit at all your upcoming gatherings. Not only is it easy to make, but it's also healthier than the original recipe. Enjoy this refreshing Keto Martini without the added guilt of consuming too many unhealthy carbohydrates!