Keto Lemon Cake: with Cacao Butter
As an Amazon Associate I earn from qualifying purchases.
This whole personal Keto Lemon Cake recipe made with cacao butter will only give you 1.6 total grams of carbs. Now, that's my kind of cake! Another characteristic in cakes that I love and need is the moistness. Yes, I said that word. HaHa 🙂
Something else that I love about this cake recipe is that it does not use any keto flours. I love this because these items do add extra carbs.
Ingredients for the Cacao Butter Keto Recipes
Cacao Butter: I choose to use cacao butter because it's all fat and once it's cooled it's nice and solid.
Cream Cheese: There is cream cheese because it helps with the structure and texture of the end result.
Butter: Having a little bit of butter aids in adding extra fat and flavor.
Egg: The eggs job, like most recipes, helps with the structure and holds everything together.
Lemon and Lemon Monk Fruit Drops: This of course gives it the lemon flavor. I like using these options instead of lemon juice to save on the carbs.
Cooking the Cacao Butter Keto Lemon Cake Recipe
I used a bundt cake silicone mold for this lemon flavored cake. I did not fill the whole mold. However, the mold allows for a 2.5 inches deep and 5 inches wide of filling.  I found my mold on Wish.com.
Or there are other similar molds you can get on Amazon. This one here is a 9-inch one that is similar to the one I used.
One thing to keep in mind is the cooking time with a different size mold.  When you remove the cake, you want some giggle left in the middle. Similar to how you want cheesecake to come out of the oven.
If it's more firm than giggle it's still okay and will taste great, the texture will just be different.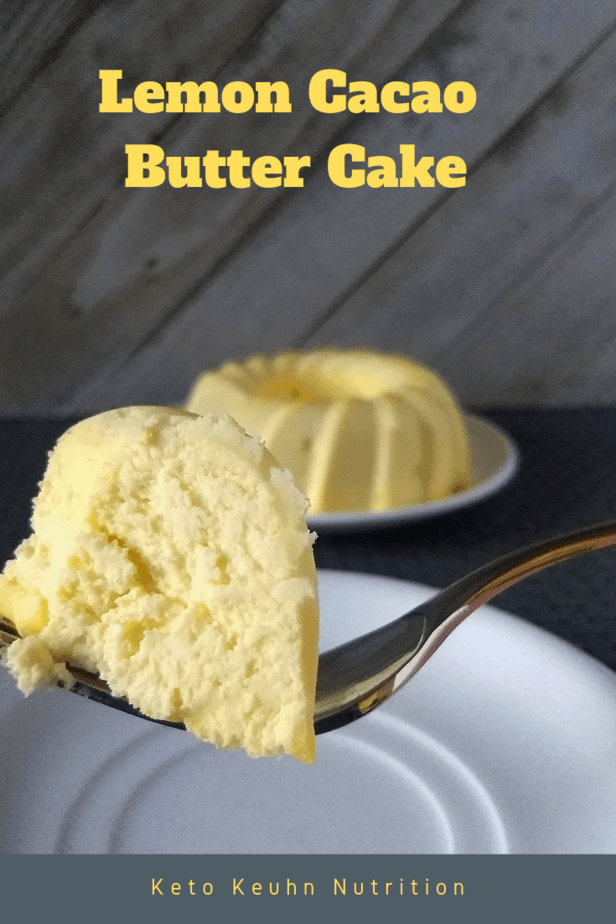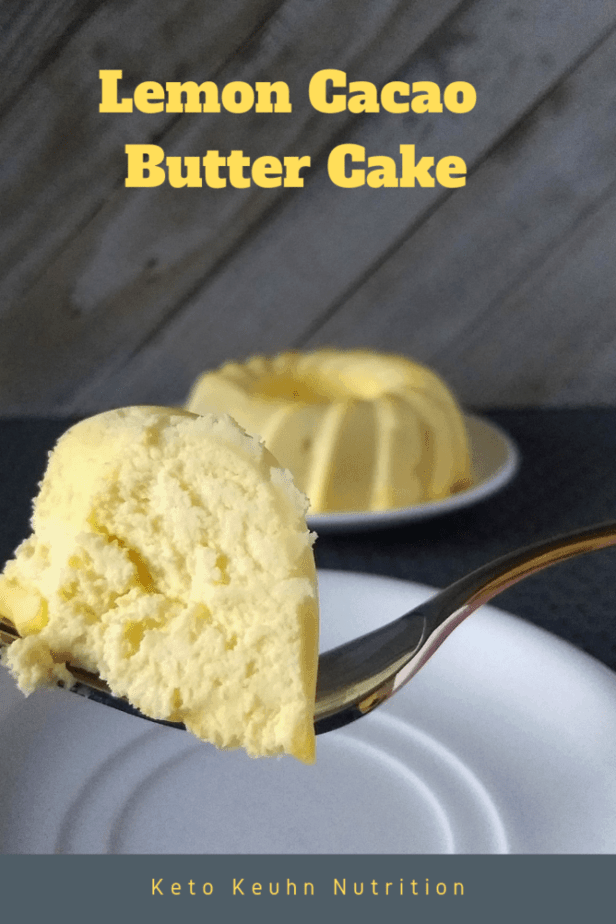 What Sweetener to Use
To further help keep the total carbs under 10 for this whole cacao butter keto recipe lemon cake, I like to use pure monk fruit sweetener.
The most common keto sweetener is erythritol in granular or powdered form. Companies make a erythritol and monk fruit mix, but I try to avoid using those when possible, as there are carbs in erythritol.
Lemon Flavoring
This cake tastes great with no flavor or even sweetener in my opinion. However, I still felt the need to make it extra special with some flavor and some sweetness for you all. Since the finished product looked yellow and someone on my Instagram account suggested lemon, I went to a lemon cake.
I played with my lemon extract and it was alright but it did not hit the spot quite right. So I also added in some monk fruit drops that were flavored lemon. Nailed it! To really kick in the flavor more, add some lemon zest to the batter.
However, you do not have to go lemon with this cake, feel free to add any other kind of flavor you would like. The possibilities are endless. 🙂
Other Keto Cake Recipes
All of these cakes are under 2.5 net carbs.